C4 – CryptoChix Creative Community & The CrystalWoman NFT Collection
I chose this project to showcase my artistic talent, digital design abilities and love for technology. Artists of all ages and talents are selling their work through the OpenSea platform as NFTs, so I devised a plan for creating my own collection. After a lot of research I settled upon a collection based on spiritual women and crystals. It draws on the current NFT trend favoring woman designers, coupled with the absence of dedicated spiritual based NFTs. My NFT art project is accompanied by the launch of a new digital company called C4: CryptoChix Creative Community. My company will fulfill a need in the metaphysical industry of supporting women artists with their blockchain education, marketing and sales.
Process
The intent of this project is twofold: to enter into the NFT marketplace with a custom digital painted collection that features women holding crystals, and to use my business experience to create a platform for other spiritual artists to follow suit without having to figure it all out alone.
Artwork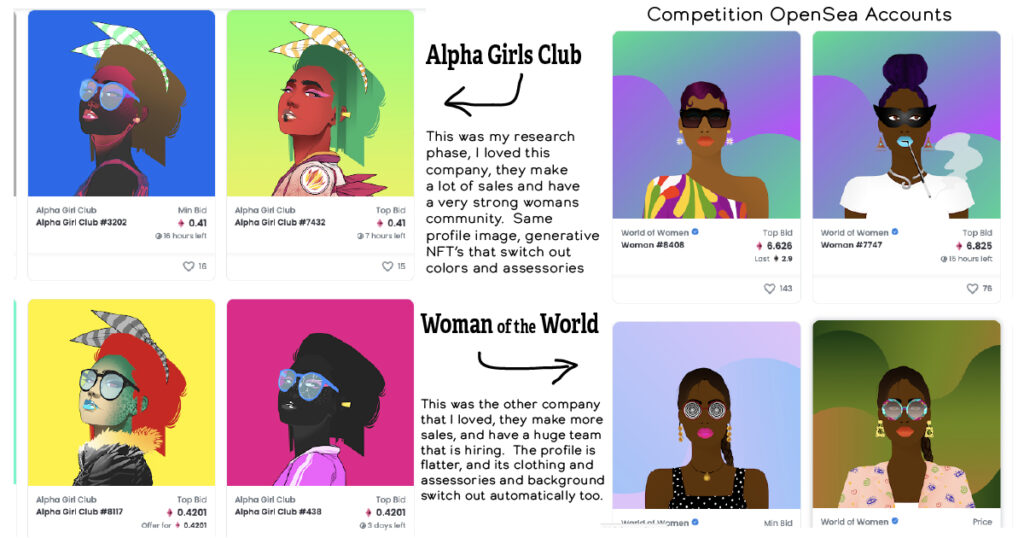 I began by interviewing some NFT artists I knew and researching the NFT industry, which is quite new. I performed competitive analysis on some of the best (and worst) selling collections, and realized that women NFT artists and individuals that take time to add value to the NFT community are promoted. People purchase NFTs that have good useability like a VIP community to belong to, free tickets to private events, or ones associated with famous people.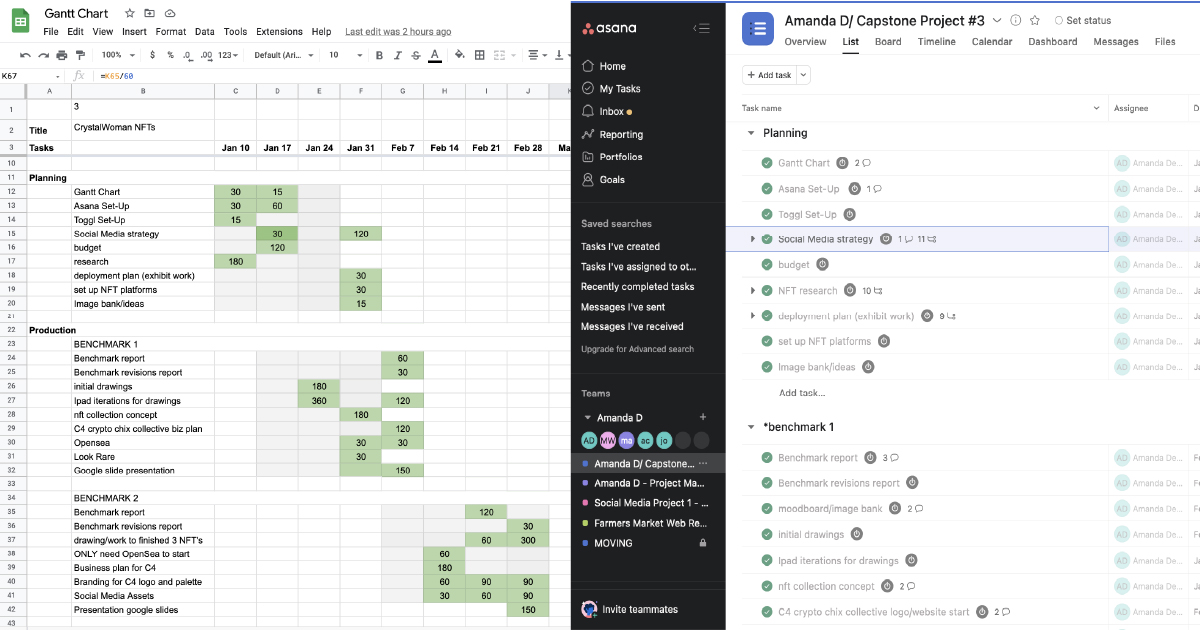 I also wrote a lot of background information on the role of cryptocurrency and NFTs in the metaverse pertaining to the use of blockchain technology. NFT stands for non-fungible token which is a bridge between physical reality and the digital reality entering every facet of our lives at an alarming rate.
As an up and coming artist, I decided to create and sell digital artwork through OpenSea instead of the traditional way of getting a curated collection into galleries to sell. The CrystalWoman NFT Collection gives the purchaser all rights to the digital artwork, a unique certificate explaining the benefits of the crystal,the effects used to draw it, and the time lapse video of it being created in 30 seconds.
The core of my collection features six different women profiles each holding a crystal with a backdrop in my brand colors. I created some crystal variations and backdrop variations which will make up the complete body of work. I will design eighteen variations of five of them, and twenty-one variations of the original one. These variations will make up the complete set of 111 NFTs to be minted this summer.
The 6 Official CrystalWoman artworks were based on photographs and created using the Procreate software on an iPad with an Apple pencil. With each NFT 1 of 1 purchase the owners will get all copyright to the design, high resolution digital files in .jpg and .png and a .tiff of an animated drawing process for their crystal woman family.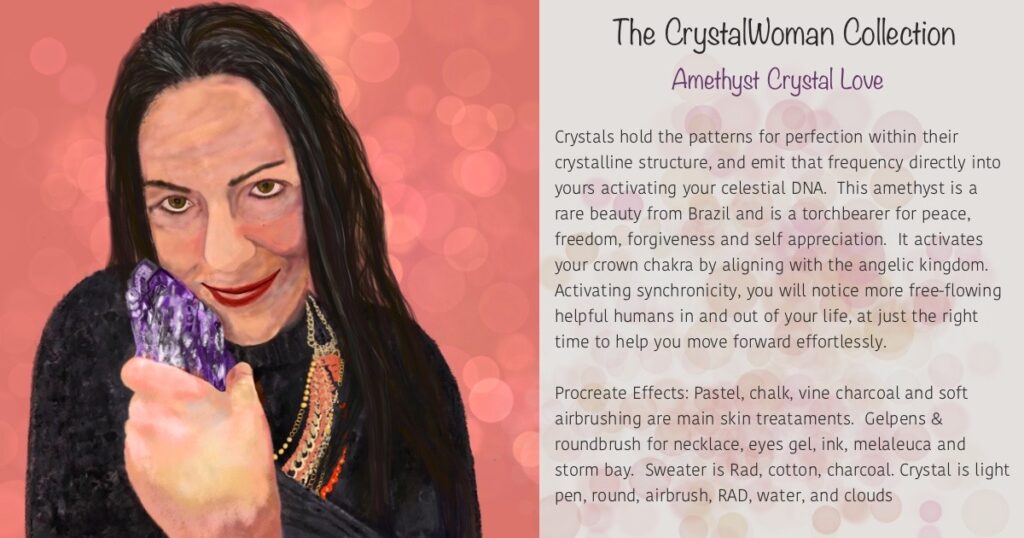 I created custom certifications to go with each image that included the original NFT, but also displays original writing about the crystals positive effects plus a summary of all the brush effects used to create the image in Procreate. I also named each piece and numbered it as part of the collection so that people could collect and trade easily.
Business
For the second part of the project, I wanted to use my business experience to create a platform for other spiritual artists to follow suit without having to figure it all out alone. I called this platform CryptoChix Creative Collective.
I set up my Social Profiles on twitter and discord for CryptoChix. This allowed me to get involved in the NFT community and create some posts. I also dipped my toe into the OpenSea marketplace with a profile and linked my MetaMask. As each drawing was completed, I uploaded it to my OpenSea CrystalWoman Collection. As each NFT was added I published the news to my twitter account. Twitter is fully branded and set up, Discord is partially set up.
I wrote a complete business plan for C4 – CryptoChix Creative Community and completed a Social Media Strategy.
I designed the company branding, drawing on previous iterations and creating a complete branding page with fonts, logo, and color pallet.
Finally, I created a single page website for the business.
In the future, I will continue to build my social media presence, complete the rest of the NFT's to mint and launch in the summer on OpenSea, and rebuild the WordPress website using my own hosting site and elementor pro. I will create a maintenance manual and do a quality assurance report to finish it all off.